I
wrote this to the xmarks the scot forum about the Grody Goose kilt I found on Ebay in June of 2008. It was my first kilt purchase. They are made and sold by people that make them from surplus BDU's (battle dress uniform). As far as I am concerned this is in the spirit of "beating swords into plowshares". A concept I particularly like. It would be nice if their source of material dried up but that will never happen. There has always been war and there will always be war until the last man standing declares himself the winner and dies. Then there will be no more war.
June 1, 2008
I have been wearing one of these almost daily for the last three weeks while gardening and working in my shop. I have found it to be very satisfactory for that. Mine has a label that says "Coat, Hot Weather", "woodland camouflage" and "battle pattern" plus washing instructions. It had a bunch of insignias with it that were air force and I found a dog tag in a pocket that is also air force. It was well broken in therefore soft and comfortable. Washing has been a snap. Throw it in the wash then the drier put it on and go back to work.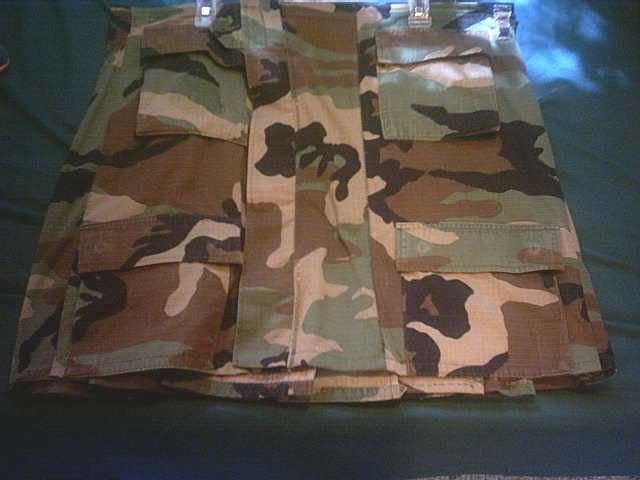 Front – button closure

Whether it's a kilt or not depends on how fussy you are. I ain't fussy. If it's a skirt made for a man and has pleats in the back it's a kilt. My 15 year old grandson and his friends recognized it as a kilt. The closure is buttons in the front a little to the right of center. Pockets button and all buttons are hidden.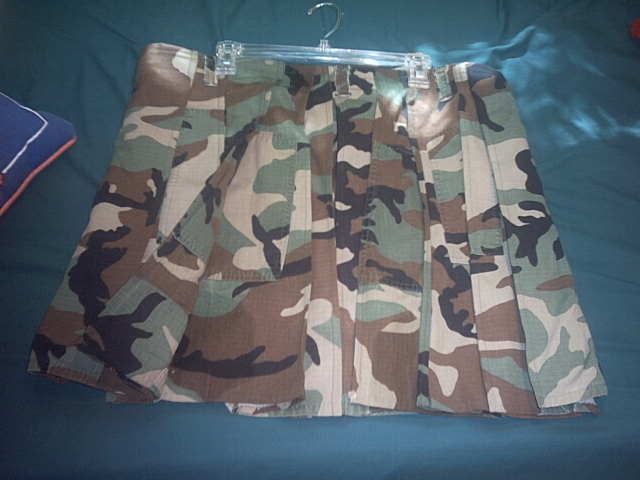 Back with one of the pleats turned back

Mine is pleated in the inverted Kingussie style (I believe that's what it's called). In any event it has four wide pleats either side of a inverted box pleat all pointing to the back. That is nice in the garden and the shop as it doesn't snag on things. It is very full, free and comfortable. It is definitely contemporary and casual. It is as formal as a man that only wears shoes and socks in the dead of winter and hasn't owned a tie since the early eighties needs. Come to think of it I haven't seen my shoes since winter before last. Washed and touched up with steam iron and this kilt can go anywhere a Utilikilt can.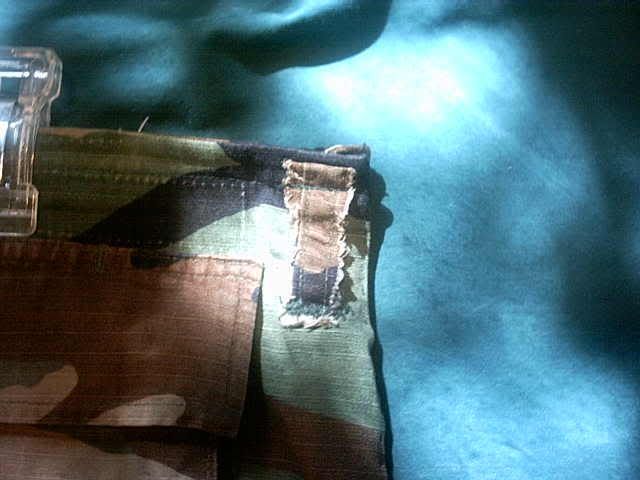 Delivery time was a little over a week and when I inquired by email I got a prompt reply. Very satisfactory. I asked for a 19 inch length and that's what I got. My only complaint is the hem in the back was not even. The pleats on either side of the center box pleat were 1 ½ to 2 inches longer that the center or the front. I corrected that myself.
This last picture is of a belt loop. It is very rough and barely wide enough for a 1 3/8 belt. For the money I'm not complaining. It is not a slick and polished garment but it suits a man that's not slick and polished.
Here it is nearly three years later and I still wear this thing. Somwhow it just seems the right thing to wear in the shop or garden. It really is too hot when the temperature and humidity really get up there but other than that no complaints. I have since made another much lighter wash and wear kilt in camo for really hot weather. More on that one later.
The panel to the far right is the addition of the under apron
I did make some changes since then. I've lost a bit of weight and so I have disassembled the waist band somewhat and taken it in. The trouble with a kingussie is that unlike knife pleats that you can just wrap around further as you lose weight a kingussie needs to be centered in the back. After losing an inch or two it's rip those seams out time. I did that and sewed down some pleats while I was at it. I redid the belt loops and in general just made it fit better.
I also added an under apron (see right side of photo above). The white patch is Velcro. Now I only button the top two buttons and it wears like a regular kilt. It makes it a lot easier to sit or squat with some decorum.
This thing is durable in fact it is practically bulletproof. I can see why the military uses it. My only complaint is that it is extremely hot. This fabric does not breath at all. I actually had to rig a fan on the floor to blow up my alley last summer while working on bikes. Iraq in summer in this stuff has to be a bit of hell. I like the pockets. It beats having to wear an apron.